Or, How I ended up with the coolest organ of all time!
---
CONTENTS:
FX-1 General Description
My first FX-20
My second FX-20
Now, the FX-1
Fixing it up
---
FX-1 General Description
The Electone FX-1 is an FM based Organ/Synthesizer built by Yamaha in 1983.
Yamaha's Electone department has made several Stage Models that were usually in limited runs and were the flagship of their newest technology.
In the case of the FX-1, we are talking about FM synthesis like what was introduced in the most famous keyboard of all times, the DX-7.
Lest you think this is just a bigger DX-7, make no mistake, this is not your parents FM. The DX-7 for example had one DAC (Digital to Analog Converter) and was mono. The DX-5 was a multitimbral version with two DAC's. You could layer or split the manual with two sounds.
The Yamaha Electone FX-1 has three DAC's, each with 6 channels! That's 18 audio channels. So, many of the sounds are designed with built in panning left, center or right offering a very deep stereo field. Plus. you can layer three fully polyphonic sounds on each manual. (six layers) In addition, there is a monophonic section that can be assigned to either manual. Plus, the solo manual sounds and of course, the pedals. Lastly, a stereo rhythm section and rhythmic chords. Add two large and powerful speakers and you have some sound. There are enough outputs to actually connect 6 Yamaha speakers and a Leslie. I promise, two Yamaha cabinets is enough for most people.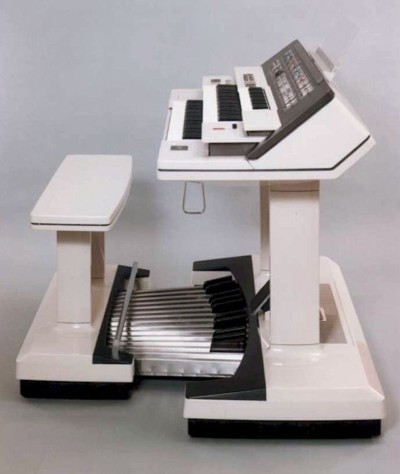 ---
The first time I saw an FX-series organ was either the FX-10 or FX-20 at a local dealership in the early 80's. The FX-20 is nearly identical to the FX-1 but in a self contained wood cabinet. My first impression was wow, a very large organ from Yamaha. But that quickly changed when I saw the motorized sliders! I don't remember hearing it that day but soon after, I found myself face to face with the FX-20 in a customers home. I was adding the MDR-1 disk drive for this customer. I was again impressed with it's size, the motorized sliders, and now, the sound. A huge sound with so much power you could hurt your ears.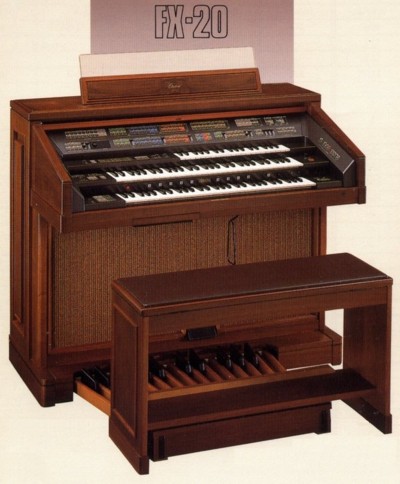 ---
Here's a video of "Penny Lane" being played on the FX-20.
---
In the late 80's, I saw a white model for the first time. It was the FX-3. I had to go out of town at Yamaha's request to service this FX-3. When I first saw it, the wow factor was awesome. I loved the cool finish. What a beauty to look at. Even the speaker was beautiful.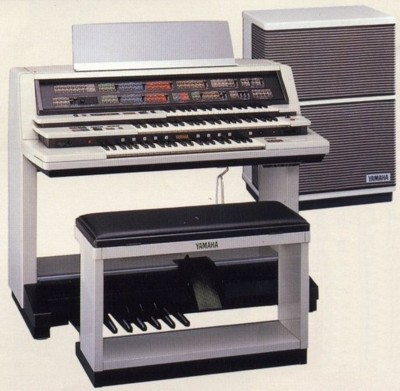 My first Electone FX-20
So the stage was set for a subliminal desire for such an organ. Well, a couple of decades went by and then I received my first FX-20 home model. As an organ technician I'm often given organs for all kinds of reasons. Usually, they aren't worth keeping. However, in 2006, I was given an FX-20 from a local dealer. They took it in on trade and didn't give much for it. They didn't want to put it in inventory and decided to get rid of it. I was asked if I wanted it. I said OK figuring it didn't work! Otherwise, why would they be giving it to me? I put it in temporary storage not knowing exactly what I was going to do with it. The truth is, I don't have room to store every organ that comes my way!
About a month later, I moved it to my shop and turned it on. Wow! It worked! In fact, as I began to look closer, the cabinet was near mint. I opened the bench and found the original owners manual, three RP-1 memory packs, and a beautiful color brochure. The first time I played it I was reminded what I liked about FM sound generation having used sample playback for so many years now. I started playing it every day. Again, Wow! What a sound. Being more of a keyboard player, this organ gave me the opportunity to start playing the pedals so I began to learn a couple of new songs with pedals. That, with the couple of songs I already knew, made me feel like I was well on my way to a new music experience.
---
Recently I actually met the woman who traded this organ in. What a small world. Actually, the organ world IS small. Turned out she bought it used for $1000.00 from a neighbor and had it for about 10 years. I suspect the dealer gave her half of that or less off the new purchase making it expendable for them.
---
I was so excited about this organ I was telling every one I met. A couple of months later, I happened to be servicing a Funeral Home. They had a large Kimball (K-600) which didn't work at all. I took it into the shop and after several weeks, I couldn't make any headway. I suspect it was a casualty of a significant surge such as lightning. In my talks with the owner, I happened to mention the Yamaha FX-20 and how much fun I was having playing it. I think he detected my enthusiasm and was very interested in looking at it, possibly to buy. I had to decide if I was willing to sell it or not. At that time, I was in need of some plumbing work that was going to run around $1800.00. So I decided if he was willing to pay $1800.00, I would sell it. Well, he did. (Ever wonder where the price of a used organ actually comes from?) Shortly after 0selling it, I began to miss playing it and started watching eBay to see if another one might pop up.
My second Electone FX-20
Over the next couple of years I saw a few FX-20's show up on eBay but they were usually too far away. Several listing for around $800.00 to $1000.00 which seemed like some good prices. This year (2008) An FX-20 came to eBay for an opening bid of $100.00, but with a reserve. The notable thing about this one was it was located fairly close to me. I watched it closely. No one bid on it until the last two days of the auction. $150.00, $200.00, $250.00… The night it was to go off, at around $250.00, I decided to go for it. I decided I would pay $500.00. I know that's not a lot but then again, I didn't need it, just casually wanted it. So I bid $500.00. Immediately, the reserve was met and I was the high bidder. Problem was, it would be hours before the auction ended and way past my bedtime. I went to bed thinking there was no way I would win. Surely someone would bid $50.00 more or so. To my surprise, I woke up as the winner! That weekend, I drove up to get it. Again, it had the owners manual and four RP-1 memory carts.
It still had the magic so I decided I would keep it this time. But of course, the best made plans can be made better! Now, things got interesting.
Now, The Mighty Electone FX-1
The FX-1 shown below appeared on eBay located in Florida. Ahh, the FX-1. It was listed at $6500.00, which was too much for me but there it was in all its glory.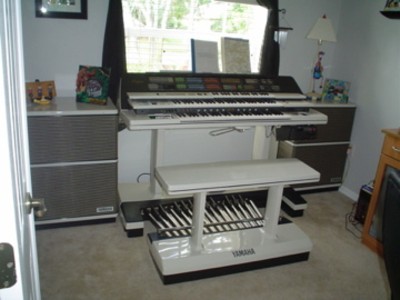 I had seen the one below on eBay back in 2006 right after I sold my first FX-20. I actually bid $3500.00 on it but I was out bid by about $150.00. You may notice the tops of the speakers are different. The speakers with the "grooves" on the top are the TX-1 models. The smooth tops are the TM-1 models. The ones I have are the smooth top versions. Same as the one in the FX-3 picture. TX-1's have four channels for a total of 310 watts each. The TM-1's are three channels with a total of 210 watts each.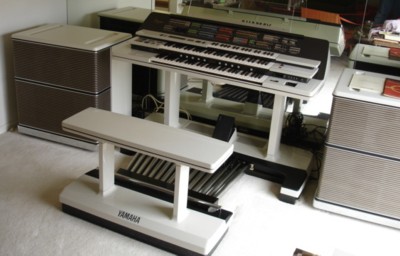 Well, even though I couldn't afford it, it got me thinking about the FX-1 again. I love playing the FX-20 but how cool would it be to sit at an FX-1? The auction went off with no bids. Hmm… It gets re-listed for $3500.00!! Wow, I actually bid $3500.00 on one before but in that case, I had someone who would deliver it to me. Not so in this case I'm afraid. So, as a casual watcher, I let it go by. Again, no one bid on it. Here's another interesting thing happening at the same time. I had someone coming to look at a Hammond organ I had for sale. The organ was $3000.00, and with a Leslie, $4000.00. He was fine with that and wanted to see them both.
When the customer came by I learned he was looking for a nice organ for his dad's birthday. They lived in a very nice house and I knew the Hammond wasn't what they were looking for. It's a good church organ and a workhorse, but not pretty enough to go to River Oaks! I suddenly realized, he needs the FX-20! But how much? Well, $3500.00 is halfway between $3000.00 and $4000.00 and he was good for $4000.00 sooo… I showed him the FX-20. (Only had it three weeks this time around!) He loved it. While I was showing it, I remembered the trip to pick it up cost me $150.00 in gas so I told him the organ was $3650.00 delivered. He said OK! Can you deliver it this weekend!(Ever wonder where used organ prices come from?)
So, with money in hand, I had to decide if I wanted to try to get the FX-1. First listed for $6500.00 and no bids, then $3500.00 and still no bids. This thing seemed so unreachable! Is it possible I could actually own one? I sent an email offering $2500.00. He emailed back saying he had a potential buyer and didn't want to go that low. So at that point, I completely wrote it off. I'll just keep the money and move on. I emailed him back and told him I was sure he could get $3500.00 if not more since I just sold my FX-20 for $3650.00. Yep, I told him the price! I suggested he take better pictures and re-list it. I encouraged him to sell it for more! As for me, I went out and bought a new stove and microwave. Heh.
A couple of days later, on a Tuesday, I was emailed by the FX-1 owner accepting my offer. Huh? I thought this was over. Now for a real coincidence. I had some friends vacationing in Florida that week. I made a call to see if they would be willing and able to swing by on their way back and pick up a U-haul trailer, and the coveted FX-1. They said, sure! (They are really good friends!) I agreed to buy the organ, pay for the trailer and their gas back, and began to make the arrangements. I reserved a 5X8 enclosed trailer near the FX-1 owners home and gave my friends the address. I asked for extra moving blankets because of the delicate nature of this organ and it's speakers. That Friday we planned to pick it up and needless to say, it was nerve racking. I'm in Houston and all this is happening in Florida! The owner told me that the organ was real heavy and that it took 4 men to move it in! I asked if there was anyway he could get some help there. He said he could arrainge for his two sons to come by and help. That plus my friends made 4. So far, so good. I told the owner they would be by around 11:00am. They ended up leaving late from their friends and there were problems with the trailer hook-up. They didn't get there until around 3:00pm. Finally, it was loaded up in the trailer and with a couple of cell phone photos, all I had to do was wait! That Sunday, around 9:00pm, I received the FX-1. What a sight watching that trailer backing up to my door!
I had never seen an FX-1 in person and was not sure what to expect. In a couple of words, visually stunning! In fact, hardly a scratch! How'd they keep it so clean for 25 years? This is not only visually stunning to behold, it's large! 60″ long. 507 Lbs for the organ without the pedals and bench! Whew! Both speakers look like new. So finally, I got my FX-1, and I got a good one.
---
Fixing it up
I couldn't wait to play it so I moved it right into the music room. Connected up the speakers and fired it up. Initially I was impressed but something seemed lacking. The FX-1 didn't sound right. Could that be? Having played the FX-20 I was sure I knew what It was supposed to sound like or at least I thought so. The next day I tried it again. Yep, not sounding right. I determined a couple of things. First, the Symphonic Chorus was affecting the Combination and Orchestra sounds, whether it was on or off. Secondly, the Tremolo was also affecting these two sections and didn't matter if it was on or off. Normally, you can only select one or the other. Here, they are both on, all the time! So, the sound was mushy, too animated, and not clear.
I was about to try to order a service manual from Yamaha hoping they even had one when I found one in my files. Never been used! So, I studied it. I learned that this organ had three DAC's, each with six outputs. (The FX-20 has two DAC's) Each output is basically hardwired to its destination. So, in order to turn the Symphonic Chorus or Tremolo on or off, the DAC output had to turn on or off. I thought maybe a DAC was bad. I removed the DAC board and discovered a DAC had been changed before. I thought maybe this problem was tackled before. I replaced the previously replaced DAC again, but no change. After much study of the manual, I learned that there was a signal going to the DAC from the main CPU called Panel Data. It seems the DAC's get the status of the panel buttons at power up and every time a panel button or preset is changed. I located this line between the CPU and DAC board and observed it with a scope. It was in fact working. I made a jumper to the DAC board where this signal enters the board so I could observe it with the DAC board plugged in. Here, I observed there was no data. So, this panel data is not getting to the DACs. I simply took this jumper wire, and touched it to the line where the signal was working and instantly, the whole sound of the organ changed. I was able to turn on and off both effects. But beside that, it now had a clear and powerful sound not heard up to this time. In fact, I now hear the stereo placements built into the mix. Apparantly, the DAC's were not receiving the panel data and they were just defaulting to a power up condition. By removing a circuit board that carries signals from one end of the digital cage to the other, and cleaning the plug connectors, the organ was now fixed. The sound is awesome! Even better than the FX-20!
Here It Is!
TM-1 Speaker Cabinet
These speakers are self powered and multichannel. The TM-1 is a three channel cabinet with 210 Watts of power. This organ came with two speaker cabinets. (420 Watts)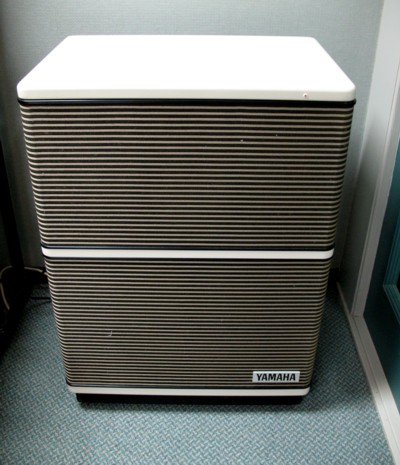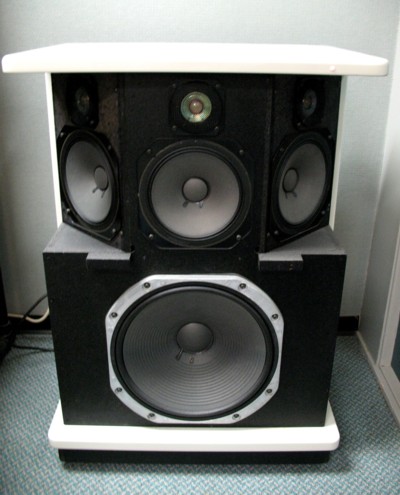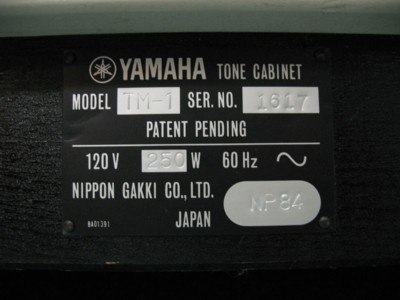 ---
---